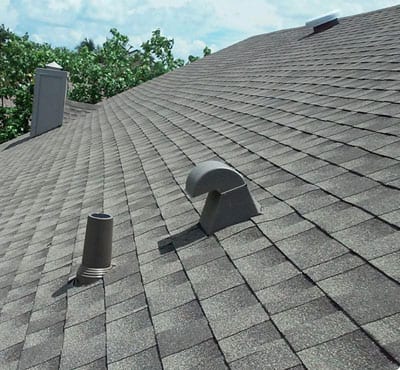 Shingle Roofing Services
for Fort Myers, FL | Cape Coral, FL | Lehigh Acres, FL | Port Charlotte, FL | Naples, FL | Sanibel Island, FL | Bonita Springs, FL | Collier County | Lee County
Shingle roofs are one of the most common types of residential roofs. Asphalt roofs are durable and long-lasting, as well as affordable. They create a uniform look for your home but don't draw attention to themselves — which is perfect for most homes.
Most importantly, perhaps, is the fact that shingle roofing can withstand severe weather such as wind and rain. And in the Fort Myers and Naples, FL, area, this kind of durability is one of the most important reasons to choose asphalt if you need a new roof. At Affordable Roofing and Gutters of Florida Inc, we specialize in asphalt shingle roofs and shingle roof repair in the Fort Myers, FL, area.
Is It Time for a New Roof Installation or Replacement?
Because your roof is so high and out of the way, you probably don't pay a lot of attention to it until something goes wrong. But when your roof leaks into your house or you find shingles in your yard, the time is past to have a brand-new roof installation done.
Get familiar with these warning signs that your shingle roof is on its last nail so you can repair or replace it before the damage gets worse:
Asphalt granules falling off the roof— o

ver time, rain, hail, wind, and other elements will begin to break down your roof. When you see granules in your yard or rain gutters, your roof is nearing the end of its lifespan, and it's time for a roof replacement. 

Shingles curling up at the edges— y

ou may need a ladder or binoculars to get a close look. Curling shingles are a result of the asphalt drying and shrinking over time. You cannot repair curled shingles. You would either need to replace the affected shingles or begin a roof replacement. 

Bare patches on the roof—

as granules fall off, your roof will develop bald spots. Granules protect the asphalt in the shingle from being damaged by UV rays, so when there are bare spots, the shingles will begin to wear faster, shortening the lifespan.

Moss growth on shingles— a little bit of moss on a roof is standard, but if you let the moss continue to grow without checking it, it will start to damage your shingles. When moss isn't taken care of timely, it will shorten the lifespan of your roof, affecting your roof's ability to drain, leading to leaks.
The roof is old— your roof should last you around 25 years. Once you reach the 20-year mark, you should consider a roof replacement before any leaking or other damages start to form.
The roof is not flat— if your roof is saggy or droopy, it is essential to call a professional as soon as possible for a roof replacement. A sagging roof is weakened from moisture and could cause severe damage to your home.
If you notice any of these symptoms or if your roof has recently weathered a severe storm, contact Affordable Roofing for an inspection to determine whether you need a roof installation for a new roof.
Benefits of Shingle Roofing
There are so many roofing materials to choose from, and it may be challenging trying to find the best one for you and your home. Shingle roofing is one of the most popular roofing materials for homes across the United States. There are many reasons homeowners choose shingle roofing when needing a new roof or replacement. Below are some of the advantages of shingle roofing.
Affordability: One of the main benefits of shingle roofs is they offer high performance at a low cost. These affordable shingles can last for up to 20 years.
Versatility: Shingle roofing is perfect for almost any roof, covering many different angles, shapes, and forms.
Simple Installation: Shingle roofing is so easy to install you could do it yourself, even though we suggest hiring a professional. Have peace of mind knowing your roof will be installed in no time.
Variety: When choosing a roofing material, you want to choose one that matches the style of your home and increases the curb appeal. Shingle roofing comes in various colors and styles, giving you the ability to select one that fits your style and budget.

When you need durable and affordable roofing, shingle roofing is the choice for you. Rely on Affordable Roofing and Gutters of Florida Inc for all your roofing needs. Give us a call for more information about our roof repair and new roof installation work! Our roofing company is proud to offer our roof services to homes and businesses across Cape Coral, Fort Myers, Lehigh Acres, Port Charlotte, Naples, Sanibel Island, Bonita Springs, FL; Collier County, FL; Lee County, FL; and the surrounding Southwest Florida areas.

Contact Us Today for an Estimate on Your Shingle Roofing Project!

Not only do we offer shingle roofing, but we also provide residential and commercial roofing services to property owners in Southwest Florida since 1991, and we have a unique grasp of the challenging weather that affects homes in this area. We offer our shingle roofing services to Fort Myers, FL; Cape Coral, FL; Port Charlotte, FL; Naples, FL; Sanibel Island, FL; Bonita Springs, FL; Collier County, FL; Lee County, FL; and the surrounding Southwest Florida areas.

Call us at (239) 240-8210 for a roof inspection or a free estimate on your next asphalt roof repair or installation!