The Reliable Roofing Contractor of Choice in SW Florida Since 1991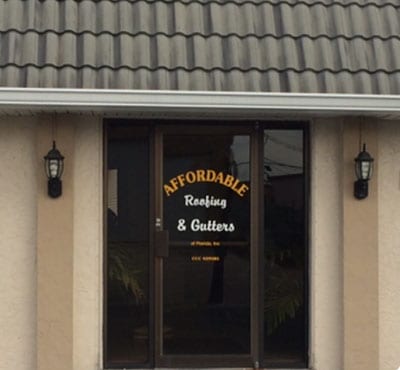 When you need a roof that lasts, you can count on the superior service of Affordable Roofing and Gutters of Florida Inc. As homeowners ourselves, we know the importance of a well-built roof. Since 1991, our roofing company has built roofs for homes and businesses in the Southwestern Florida area.
Our Roofing Company Stands Apart
While many companies offer just a few roofing options, we specialize in a variety of repair services and materials. Affordable Roofing and Gutters of Florida Inc can install shingles, tile, flat, and metal roofs. We use specialized teams for whichever roofing method our customers choose. For example, our shingle crew handles the shingle installation exclusively. This guarantees our team's expertise in the task you need to accomplish.
Affordability is important to us—after all, we put "affordable" right in our name. However, we also believe in superior service for every customer. Our roofing company as a whole constantly updates our training certifications so we're aware of the latest industry knowledge. We constantly update our training certifications so we're aware of the latest industry knowledge. Affordable Roofing and Gutters of Florida Inc also customize its services to fit the needs of each unique customer. We can install gutter systems, repair any kind of roof damage, and conduct pre-sale inspections.
Our relationship with GAF, Owens Corning, SunTek, and other great roofing materials companies gives you access to the most durable materials in the business. We're proud to announce our new partnership with the renowned roof accessory company Bullet Products. We are constantly adding to our product line, giving you the ability to choose the materials you prefer. What's better than a roofing company that looks out for the best interest of its customers? We provide services for residential homes and commercial buildings.
Contact Our Commercial and Residential Roofing Contractor
for a Free Estimate on Your Upcoming Project!
Count on Affordable Roofing and Gutters of Florida Inc to get the job done. Whether you're interested in a new roof installation, gutter repair and installation, or storm damage roof repair service, our team will be there to help you. One of our commercial and residential roofing contractors can visit your home to evaluate the state of your roof or investigate potential damage and offer a roof repair quote. We serve property owners in Port Charlotte, FL; Cape Coral, FL; Lehigh Acres, FL; Naples, FL; Fort Myers, FL; Sanibel Island, FL; Bonita Springs, FL; Collier County, FL; Lee County, FL; and the surrounding Southwest Florida areas with all their roofing, gutters, and wind mitigation services.
Call us today to schedule a roof inspection or request a free project estimate!